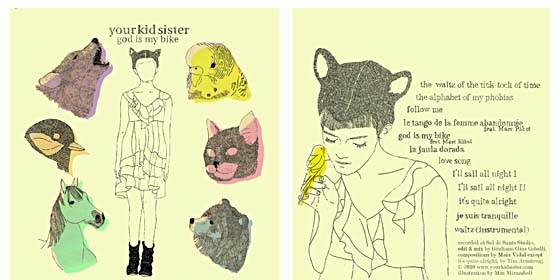 About YOUR KID SISTER:
YOUR KID SISTER is Maïa Vidal, an American-born French artist who uses toy instruments and make-believe to compose her own original, unique music. Mixing old world melodies and instrumentation with modern, confident songwriting, YOUR KID SISTER takes us on a journey that is at once sweet and painfully honest, yet never loses its naïve sense of wonderment.
YOUR KID SISTER began in 2009 as a RANCID cover-band, a project devoted to recording sweet orchestral versions of such punk anthems as RANCID's Poison, Daly City Train, and Not To Regret. Sung melodically and accompanied by accordion, violins, glockenspiel, and layered backing vocals, these normally aggressive songs were transformed into haunting lullabies, plaintive waltzes, and even gospel bossa novas. These transformations were meant to pay homage to the songs of Maïa's punk-rock influenced youth.
Maïa comes to YOUR KID SISTER as no stranger to music, having fronted the all-girl punk band KIEV as a teenager. KIEV toured extensively in New York and was met with moderate fame and recognition. In YOUR KID SISTER, however, Maïa maintains the spirit of punk while deftly stripping it of all its meanness.

The first 5 Rancid songs that she recorded herself on GarageBand were released as an EP titled "POISON (5 Rancid songs that I love)." The 3 music videos she created for the EP continue to gain popularity on YouTube.
Contact info:
e: yourkidbooking@gmail.com
p: 607-277-1483 (US)
p: +34 936 031 053

Photo credits:
Crista Leonard cupcake and rooftop photos